The Build Your Bundle: Homeschool Edition sale is live and open! Click here to shop now. This sale happens only once a year and for only a few days. It will end Wednesday, May 22, at 11:59 pm Central, so shop now and don't put it off. You know your week will get busy, and you'll want to spend some time surfing and shopping the sale to find the best bundle for you, so shop now.
My Books in the Bundles
Now I get to tell you which products of mine are included in the bundles this year!
Daniel's Statue: Babylon, Persia, Greece, and Rome (Foundations of World History Year 2)
This normally sells for $29.95-$39.95 here on my website. But in the bundle, you'll receive $249.82 worth of history curriculum for $29.95. Can you say wow?! It's included in the History Bundle or in the Build-Your-Own Bundle.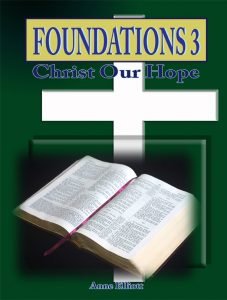 Foundations 3: Christ Our Hope

This verse-by-verse study of the book of Acts, the apostolic letters to the first-century churches, and the book of Revelation normally sells for $14.95-$24.95 here on my website. But in the bundle, you'll receive $178.51 worth of biblical character curriculum for $29.95. Crazy good price, right?! It's included in the Character Bundle or in the Build-Your-Own Bundle.
About the Build-Your-Bundle Sale
There are over 100 bundle contributors this year and over 180 products discounted up to 90%! You'll find products from your favorite Christian authors and publishers. You can shop by prepackaged bundle categories or you can create your own bundles that are custom suited to your family's needs. Contributors submit different products each year, so if you see something you like, get it now because it won't be in next year's sale!
The bundle categories include Preschool, STEM, History, Kindergarten, Elementary, Charlotte Mason, Bible Activities, Cathy Duffy endorsed, Planners, Unit Studies, Upper Grades, Character, and more! See them all here!See them all here!
Who Would Benefit from this Sale?
This sale is not just for homeschool moms. Any teacher, mom, parent or grandparent will benefit. People who teach children at church will especially find great resources in the sale.
Next Step
The next step is the most fun — shop! Just remember, the sale closes May 22, so hurry.
If you have any questions, please let me know! I'm here to help.
(Note that the links in this post are referral links.)