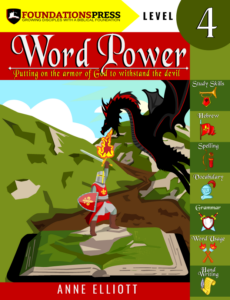 We are excited to tell you how Word Power is coming along.
Our goal is that you can begin using Word Power to teach all language arts — from phonics to study skills, spelling, vocabulary, Hebrew, grammar, word usage, and writing. Placement tests and samples will be available later this week.
Unfortunately, because the Elliott family has been sick for several weeks, the printed books will not be available at Foundations Press by September 1, but we will make PDFs available to everyone free of charge until the printed books arrive from the printer. (Read more about this below.)
Watch your email in the next week for more information on how to get your free PDFs!
If you would like to order flashcards or stickers for Word Power K, Word Power 1, Word Power 2, or Word Power Hebrew (grades K-8), you are welcome to do so now.
Update on the Elliott Family
Kraig, Anne, and a few of our kids got sick during our recent online Homeschool Family Conference. The symptoms have been very much like how everyone describes the current Covid-19, but so far our test results are negative. So what is it? We don't know, but it has been rough.
We've been taking massive doses of Vitamin C to stop the infamous cytokine storm, and Vitamin D, Zinc, cryptolepis, alchornea, and licorice to halt the virus. They seem to help, but we wear out pretty fast.
However, this has not helped our writing and editing schedule this month, as we've been trying to get the new Word Power books to the printer. Usually our teenage & adult children help us in the business, but we've all been getting sick together. Please bear with us as we finish the final parts, and pray for us. 🙂