Description
Foundations of Preschool: Parent Guide
We have three goals in providing lesson plans for children who are aged 5 and younger:
To train them in orderliness, respect for others, self-control, and biblical character — these character qualities form the foundation of everything else in life. The books of Deuteronomy and Proverbs are emphasized, and plenty of advice and help for parents is included in the lesson plans.
To give them special time with Mom — Little ones can get left out when life gets busy. Our plans will remind you of priorities of motherhood. You'll enjoy spending time doing activities with your children, and you'll cultivate special memories while feeling good that you remembered to teach them important skills and life lessons from Scripture.
To help mothers feel less overwhelmed – You don't have to do everything we recommend, but you'll probably enjoy having "check boxes" of the  commonsense things you want to remember with your preschoolers. We even remind you of character qualities you can develop in your own life, such as joy, peace, and contentment.
Our lesson plans are based on 5 activities we recommend for preschoolers each day. Please note that we believe in short, easy lessons.
Bible and Learning Time – We'll give you short and pleasurable ideas for basic life skills that all preschoolers should learn, from Scripture memory work, Bible stories, ABCs, 123s, and more.
Creative Time – We'll recommend fun table-time activities your preschoolers can work on by themselves, with you or an older sibling in the room.
Building Time – We'll suggest hands-on playtime activities that will help your preschoolers develop self-control, imagination, and attention-building skills.
Outside Time – We'll recommend ways to encourage your preschoolers to play outside, weather permitting, or at least to get up and moving inside.
Rest Time – We'll give gentle ideas for ways your youngest children can rest, relax, and get away from the over-stimulation that often occurs in a busy, homeschooling household.
Skills We Cover:
Five Senses
Language Development
Pre-reading
Relationships (longer/shorter, on top of, etc.)
Sorting and Classifying
Counting and Measuring
Problem Solving
Exploring
Creativity
Family Identity
Biblical Character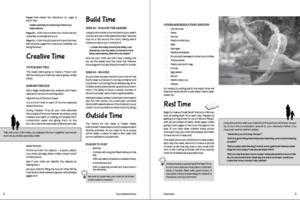 Foundations of Preschool: Worksheets for Daily Learning Time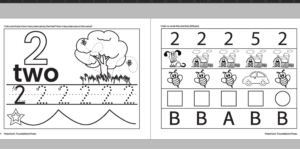 Two pages a day teach the alphabet and numbers, identifying, sorting, fine-motor control, listening to instructions, coloring, and cutting.

Note: This title is included in our all-inclusive curriculum at HomeschoolingTorah. (Learn more here…)